Science Fiction in South Park
Home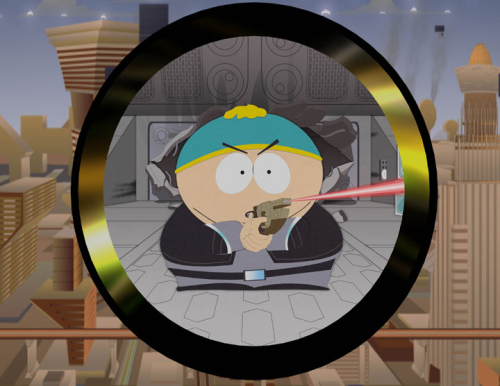 In 13 seasons and 189 episodes, the absurd adventures of Cartman and the gang have run the gamut. From getting abducted by aliens to traveling through time and space and everything in between, the little town of South Park, Colorado has seen it all. This site is dedicated to the influence of Science Fiction in South Park. Through the medium of an animated TV show about the extraordinary lives of a group of fourth graders, creators Trey Parker and Matt Stone have created a potent social satire that had never been accused of holding back.
The nine South Park episodes featured on this site are examples of how science fiction is used in South Park. Science fiction is many times used as a way to make the plot ridiculous and fun. Other times, like many famous science fiction pieces, it creates a new medium where South Park can comment on real life issues without being preachy or boring.
Unfortunately, I could not include ALL of the great episodes of South Park that include science fiction. If you would like to see crab people try to take over the world, meet the Goobacks, or see South Park's explanation of Scientology, go to www.southparkstudios.com.
New To South Park?
Want More Scholarship?
The following are available in PDF format:
This website was created for Dr. Arthur Evan's HONR 101C Science Fiction Seminar during the Fall of 2009.